Many people ask about the Norateen range and whether it really can do anything for bodybuilders. They are skeptical of supplements like Norateen because they have been scammed before, they are scared or they just don't believe that a supplement can help them with gains.
Quite simply put, a supplement like Norateen Heavyweight II or Norateen Gold can turn you from someone with a slightly toned "boy's" body into a muscular man's body, as illustrated in the photo for this article.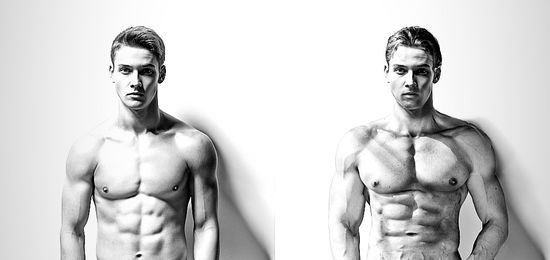 The above is not a theoretical claim! It is a transformation that has been achieved by millions of people worldwide since the initial launch of Norateen some 20+ years ago. Whichever Norateen you go for, you will see your strength go up, your muscles get bigger, harder and more defined. This is the only reason why LA Muscle can offer a 100% money back guarantee on the Norateen range - Norateen WORKS.
The Norateen range gives you that muscle thickness and hardness that would otherwise take years and years of gym work to achieve. None of the Norateen supplements are miracle pills. You do need to work-out and eat well, however they really TRANSFORM your body when you take them as directed.
Give any of the Norateen supplements a try if you are tired of looking and feeling weak and want that beefy, hard, dense look. All Norateen supplements come with LA Muscle's full guarantee, so you take no risk.
If you are just starting out with Norateen, you can try Norateen Heavyweight II, voted "Best Muscle Builder" by many magazines and media as well as rugby players and champion bodybuilders.
You can then move on to other Norateens like 
Norateen Gold
 or start stacking and cycling your Norateens for continuous growth. Norateen supplements are tried, tested and 100% natural. Don't buy copycat supplements or cheap supplements with untested and unproven formulations. Trust the LA Muscle brand and the Norateen name.