It's time to go nuclear with the strongest creatine money can buy!
Nuclear Creatine is THE strongest Creatine you can buy. It contains Pharma Grade Creatine as well as exclusive Nitric Oxide agents to get you bigger in as little as 1-2 days.
➤
 Bigger in 2 days, guaranteed
➤
Patent-pending exclusive formula
➤
Contains the exclusive D-Aspartic Acid
➤
Delicious Fruit Punch Flavour
AMAZING D-ASPARTIC ACID
Nuclear Creatine contains the rare amino acid: D-Aspartic Acid. This incredible supplement has been demonstrated to directly increase blood flow, meaning more pumps in the gym. It also boosts Male Hormone, meaning more muscle, strength, energy and endurance. And increased Growth Factor, for more muscle mass.
GETS TO WORK RIGHT AWAY!
Mix a scoop with some water and drink just before working out. Nuclear Creatine's exclusive ground-breaking formulation gets to work instantly. Take Nuclear Creatine and you will see results in the gym right away - More muscle pumps, more strength, bigger and harder muscles. A total change in size and body shape. Nuclear Creatine is quite simply incredible.
EXCLUSIVE PATENT-PENDING SUPER-DELIVERY FORMULA
Nuclear Creatine is
THE strongest creatine formula
you can get, combining amazing "instant get big" ingredients for the gym with more long term muscle & strength activators. You cannot get anything stronger -
this is 100% guaranteed by LA Muscle.
Nuclear Creatine is an incredible formula containing D-Aspartic Acid, super-micronised Creatine as well as
4 other synergistic uptake agents.
➤
L- Ornthine Alpha Ketogluterate (OAKG)
- Increases Endurance. Has been shown to have an anti-fatigue effect by increasing the efficiency of energy consumption. Excellent for gym pumps and increasing NO2.
➤
Taurine
- Turbo-charger of Creatine and energy levels.
➤
L-Arginine Alpha Ketogluterate (AAKG)
- Shuttle agent for Creatine, increasing its performance and delivery ten-fold and give 'muscular pump'.
➤ Dextrose - The correct amount of dextrose in Nuclear Creatine ensures it works in record time.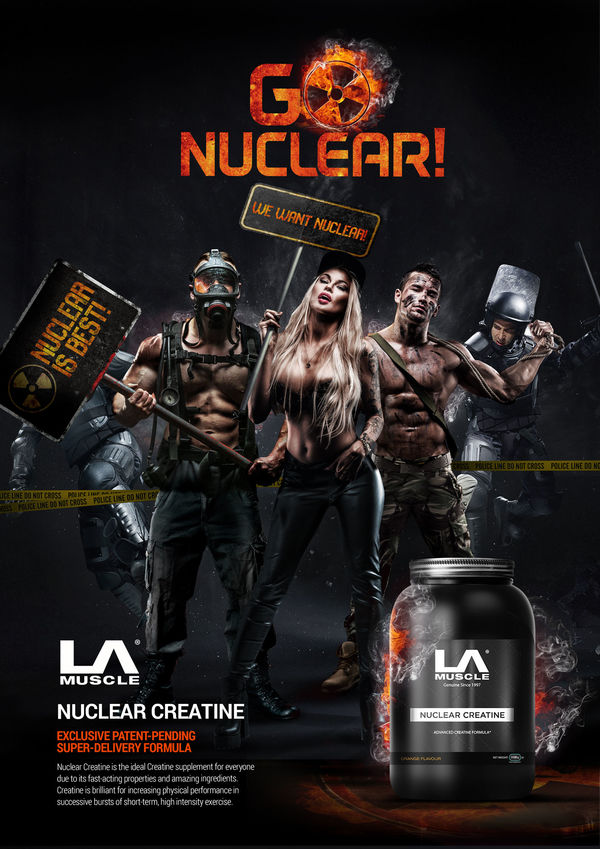 NON-COMPROMISE ETHOS
LA Muscle's full-strength premium sports supplements deliver the highest raw material qualify, non-compromising ethos and strict manufacturing practices. All LA Muscle supplements are scientifically researched and developed and manufactured to the highest pharma and standardised potency levels using the very best 100% natural raw ingredients.
NUTRITIONAL INFORMATION
| | |
| --- | --- |
| | 137 kcal |
| Dextrose | 33g |
| Super-Micronised Creatine Monohydrate | 5.69g |
| | 1.5g |
| L-Arginine Alpha Ketogluterate (AAKG) | 1.26g |
| | 1g |
| L-Ornithine Alpha Ketogluterate (OAKG) | 520mgs |
Ingredients: Dextrose Monohydrate, Creatine Monohydrate, D-Aspartic Acid, Natural Flavouring, L-Arginine AKG, Taurine, Citric Acid, L-Ornithine AKG, Colour: (Beta-Carotene). 
DIRECTIONS
Serving size:
 45g
Servings Per Container Size:
Variable, depending on whether you take loading or maintenance dose.
Supply:
903g tub
How to take: Mix 1 scoop with a glass of water and drink.
Loading dose: If you have never taken Creatine or not taken Creatine for over a month, you should do a loading dose. This means taking Nuclear Creatine 4 times a day for 4 days.
Maintenance dose: If you have taken Creatine less than a month ago or you have just done the Loading Dose, you should then take Nuclear Creatine twice a day, every day. On training days you can take 1 scoop 15 minutes before training and 1 scoop 15 minutes after.
Supplements not medicines
LA Muscle supplements are "Nutritional Supplements". They are not medicines or drugs. They do not prevent, diagnose, restore, correct or modify any physiological condition or function in human beings. They will not treat diseases; they are not medicines. If you have a medical condition, please refer to your physician. If you get "any" side effects at all, stop use and refer to your doctor immediately. Never take more than the recommended dosage. Male hormone boosters are for people over 18 and mature for their age. If in doubt about anything at all, please contact LA Muscle.
LA Muscle tubs
In line with LA Muscle's Green Policy and reducing carbon footprint, LA Muscle is using a "ONE SIZE" tub for most supplements. This is to reduce the use of plastic tubs by having tens of different sizes for various products and having to over-manufacture plastics. As a result, you may find that in many LA Muscle supplements, the tub is much bigger than the total size of all pills. You are still getting the exact number of pills/capsules/powder you have paid for, however there will be extra space at the top, giving the impression to some people that the tub is not full. This is solely because of our commitment to reducing the need for making extra plastic tubs. LA Muscle does not use cotton wool to fill up the extra space because cotton wool can attract microbes. Your safety AND the protection of the planet are big parts of the LA Muscle ethos.
Helped my endurance and strength, especially when I'm doing super sets
Very quick to see this working.
Been using for a month and have added muscle mass
Struggle with doing leg sessions sometimes but this has worked like magic.