LA Whey
 has always been at the high end when it comes to quality and formulation. Sometimes customers compare it to X or Y brand and ask why is 
LA Whey
 not the same price as others.
Here are 21 reasons why 
LA Whey
 is a stand alone super-grade protein powder:
1. 
LA Whey
 is triple filtrated – This is an expensive process that removes virtually all of the lactose in this product ensuring you do not get gas, bad breath, bad skin or other intestinal issues.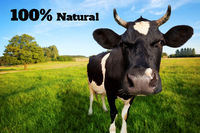 2. 
LA Whey
 is Ionic Exchanged – Another expensive and unique process which really purifies the protein and gives you the highest protein factions, ideal for extra muscles.
3. 
LA Whey
 does not contain artificial colours – Natural colours come from foods and are more expensive but much better for you. Instead of a red artificial E-Colour, you get something like Beetroot powder in 
LA Whey
. Again more expensive to do but much better for your body.
4. 
LA Whey
 is certified to be GMO free, which means it is free from anything that has been genetically modified – Not all other proteins can guarantee this to you.
5. 
LA Whey
 contains 17% Glutamate, all essential amino acids and is high in Branch Chain Amino acids due to it being 100% pure whey of the highest quality. 
6. 
LA Whey
 contains no artificial sweeteners – Natural sugars such as fructose are more expensive than artificial ones. You get natural sweeteners in 
LA Whey
.
7. 
LA Whey
 is virtually fat free by going through a unique process to remove excess saturated fats.
8. 
LA Whey
 is cold-processed – This means your 
LA Whey
 protein is not denatured. Most other companies "heat up" their whey at some stage as this is cheaper, which means it loses some or most of its potency as a protein. It may look or smell the same, it may even have a "good label" but denatured protein is nothing like the real thing.
9. 
LA Whey
 is batch tested in a scientific laboratory for purity and label conformity – This adds a slight cost to the final product and assures you of the quality of each and every 
LA Whey
 tub as well as label conformity.
10. 
LA Whey
 is wheat-free, gluten free and suitable for vegetarians. LA Muscle goes the extra mile to ensure these for each and every 
LA Whey
 tub.
11. 
LA Whey
 does not contain any cheap protein sources – You do not get Soy or vegetable proteins, just 100% pure whey. Using cheaper protein sources could halve the cost of 
LA Whey
, however it would not be the same high grade, 100% whey protein.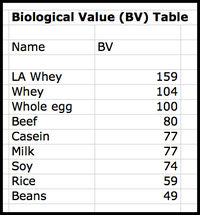 12. 
LA Whey
 has a high Biological Value of 159, meaning much more protein is deposited into your muscles (See Biological Value Table on the right).
13. 
LA Whey
 has been scientifically formulated and extensively tested to mix instantly – Most other lesser proteins leave lumps and do not mix fully with liquid.
14. 
LA Whey
 is very low on carbohydrates. This protein will not get you fat. Special care has been taken to ensure a low carb protein with maximum "lean" muscle building power.
15. 
LA Whey
 has more potassium and less sodium – This adds more to the cost but the end result is a superior whey protein that assists you in getting rid of water retention and helping you in your quest for abs and six pack.
16. 
LA Whey
 contains 48g of pure whey per serving (higher than other proteins) – You will actually feel/see better results using less 
LA Whey
 than using other proteins. Try it! Use just 1 scoop of 
LA Whey
 after training as a like for like with "any" other protein
.
17. 
LA Whey
 is hypo-allergenic – People who are usually allergic to certain foods such as milk/dairy find they really get on with 
LA Whey
, especially when mixed with water.
18. 
LA Whey
 has been specially flavoured so the taste does not get too much if used over long periods. This process has been developed by specialist food scientists and currently 
LA Whey
 comes in 4 delicious natural flavours. 
19. 
LA Whey
 is certified to be BSE free i.e. No Mad Cow Disease! This is not guaranteed by most other brands.
20. 
LA Whey
 contains no artificial preservatives – The various processes, including cold processing, that 
LA Whey
 goes through, ensure that this protein does not need lots of artificial additives to keep it fresh.
21. 
LA Whey
 is packaged in a special cold-lid tub to keep the protein fresher for longer and the tub is recyclable - and in the UK, LA Muscle will do the recycling for you.
LA Whey
 has been a premium grade, high quality protein since 1998 and despite global conditions such as higher raw material prices, less availability of some ingredients and the introduction of VAT, it is still the same great product. You have LA Muscle's guarantee on this.