A capsule is a capsule, right? You may think so, but when it comes to what you pop down with a glass of water, there are some facts you should be aware of. Read below why LA Muscle capsules are special...
When you buy a quality car, you may not necessarily know or be interested in all the intricate details of what makes it quality and sets it apart from the others. However, sometimes a salesman may take the time to tell you a little bit more.
For example, he may tell you that the car is hand built, or that the leather is the finest you can get or that the safety features of the car are at the top of the list.
A huge deal of effort, planning and implementation goes into each and every LA Muscle capsule formula. It is worthwhile reminding you of some of them so you see what you are getting, what sets LA Muscle apart from other companies and why some of the capsules may cost a little more than others.
100% vegetarian capsules
LA Muscle's capsules are 100% non-toxic vegetarian, highly tested to hold the integrity of the ingredients for long periods without any loss of potency.
GMO free
LA Muscle's capsules and ingredients are GMO free. This is on special request from LA Muscle's manufacturing plant all the way down to the raw ingredients manufacturers. The ingredients do cost more this way but then you have the reassurance that what you are getting is not going to give you any potential problems in the future.
Ultra-protected for full potency
LA Muscle's tubs are specially designed to ensure no light, air or damp reaches the capsules. This means what you get in your hands is what was made at the manufacturing plant and not a weaker version.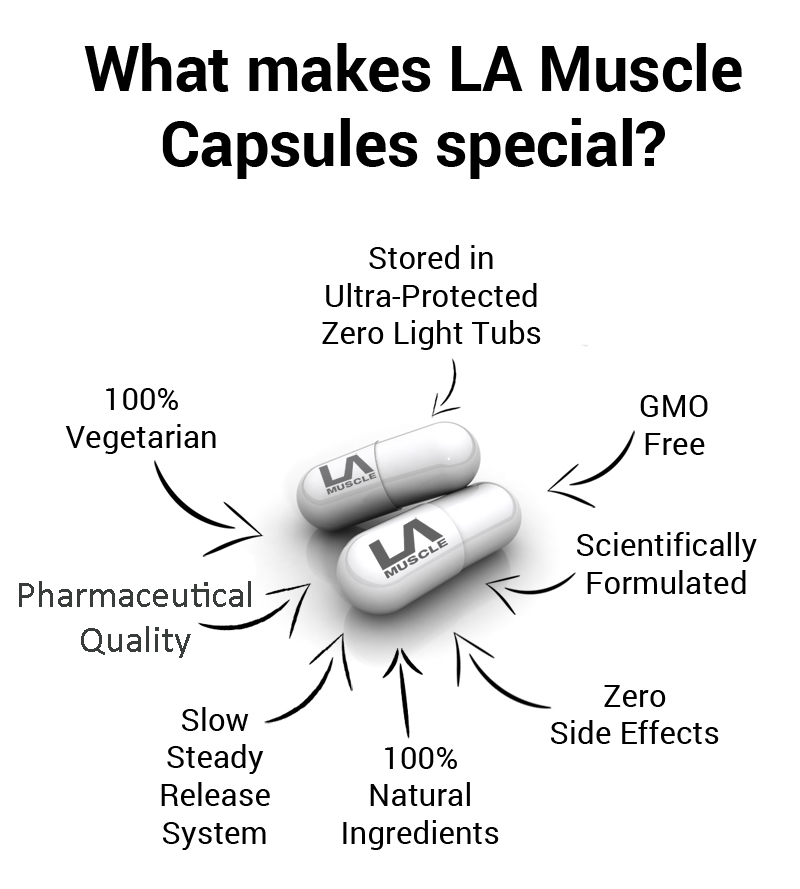 Pharmaceutical Quality
Capsules which are Pharmaceutical Quality go through a whole array of extra systems, precautions and loops to ensure they are of the highest grade with no unwanted additives. This is an expensive process requiring many more high grade equipment and also extends the time it takes to manufacture capsules. LA Muscle believes the end result is worth the extra effort and cost in terms of potency and purity.
Scientifically formulated
LA Muscle's formulas are based on science and scientifically formulated. Take Thermoxen for example. This amazing weight loss formula is scientifically proven to aid weight loss and its main ingredient has been shown to dramatically aid weight loss in men and women. It also comes with full European approval.
Steady release system
Many capsules or pills go through your system way too fast to have any effects. LA Muscle's double barrier capsules make sure the release of their active ingredients are slow and steady, enabling your body to fully utilize them.
100% natural ingredients
Did you know that the more natural an ingredient is, the more it costs? It's cheap to give you poison! The reality is that when you buy a sports supplement, you have absolutely no idea what's in it. You are unlikely to spend thousands of pounds testing it, so you have to rely on what the manufacturer tells you.
LA Muscle is one of the most established nutritional supplements brands around with a reputation for giving you the best. LA Muscle's capsule formulas are not the cheapest and that's because they are 100% natural with ingredients which are as close to nature as possible. You get what you pay for.
No side effects
LA Muscle's capsule formulas are tested to ensure they are free of side effects. These arduous efforts cost time, money and know-how. The end result though is a formula that gives you no side effects, just great results.
How many fat burning capsules have you taken that give you palpitations, mood swings, sweating or insomnia? Take "any" of the LA Muscle weight loss formulas and you will not get any of these side effects. This is not by accident!
There you have it. There are many other things that make LA Muscle capsules special such as GMP (Good Manufacturing Processes), cool and fast transportation methods and more. These will be addressed in a future article.