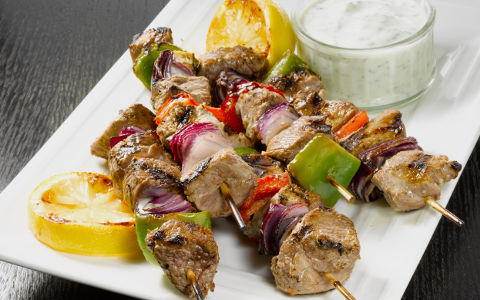 This is a delicious meal that is perfect for lunch or dinner. The salsa provides a tangy taste that compliments the meat and it's extremely quick and easy to prepare. Add some of your favourite sides and you can have a great meal that will meet all of your macros.
INGREDIENTS
400g/14oz lean lamb leg steaks, cut into 2.5cm cubes
2 small red onions, peeled and cut into wedges
1 small red pepper, cored, deseeded and cut into chunks
1 small yellow pepper, cored, deseeded and cut into chunks
For the honey and mustard marinade
60ml/4tbsp clear honey or maple syrup
30ml/2tbsp Dijon or English mustard​
30ml/2tbsp fresh orange juice
Salt and freshly milled black pepper
30ml/2tbsp freshly chopped rosemary leaves
For the cucumber salsa
½ cucumber, finely diced
1 small dessert apple, cored and finely chopped
2 spring onions, finely chopped
Juice of 1 large lime
½ x 30g pack fresh mint leaves, finely chopped
Sweet potato wedges, to serve
Yields 4 servings
DIRECTIONS
In a large shallow dish, mix all the marinade ingredients together. Cover and leave to marinate in the fridge for 10-20 minutes.
Meanwhile, prepare the salsa; in a large bowl mix all the salsa ingredients together.
Thread the lamb with the vegetables onto 6 short metal or wooden skewers.
Cook under a preheated moderate grill or on a prepared barbecue for 12-16 minutes, turning once, until any meat juices run clear.
Transfer the kebabs to a warm plate and serve with potato wedges and the cucumber salsa.
Enjoy!
Optional – If you don't like lamb, you can always substitute it with chicken, beef, pork or anything else you'd prefer!