2 months supply of 3 strong repair & rebuild aminos in perfect ratios
NEW! 240 capsules instead of 120! That's 2 month's supply!

LA Muscle's Pharma Grade Branch Chain Amino Acids, 311 BCAAs, are specifically designed to aid recovery post-workout. This incredible supplement contains THE BEST 3 muscle building and recovery amino acids in the perfect ratios resulting in guaranteed noticeable results in strength, muscle recovery and muscle building.
➤
3 Critical Amino Acids in Exact Ratios
➤
Powerful Formula for Muscle Recovery
➤
Great Muscle Building Supplement After Training
➤
TWO MONTHS supply
BUILD AND RECOVER
Branch Chain Amino Acids are scientifically proven to reduce muscle damage as a result of exercise. LA Muscle Branch Chain Amino Acids 311 BCAAs contain the 3 most important amino acids for muscle building and muscle recovery. 311 BCAAs contain Leucine, Isoleucine and Valine in the exact ratios as shown in scientific studies to build muscle recovery
THE PERFECT RATIO
BCAAs taken in any other ratio other than 3-1-1, will not work to aid recovery or build muscle. Only the 3-1-1 ratio has proven to dramatically aid muscle recovery and muscle growth. This ratio stimulates increased protein synthesis meaning you are not at risk of muscle breakdown (catabolism), which can often happen especially when dieting and calories are restricted
IT'S IN THE TIMING
Recent research heavily favours the benefits of leucine supplementation between meals (leucine pulsing). This dramatically increases protein synthesis and leads to muscle growth. Optimal times to take LA Muscle's 311 BCAAs are in between meals and intra-workout. LA Muscle guarantees noticeable and fast results from this scientific formula.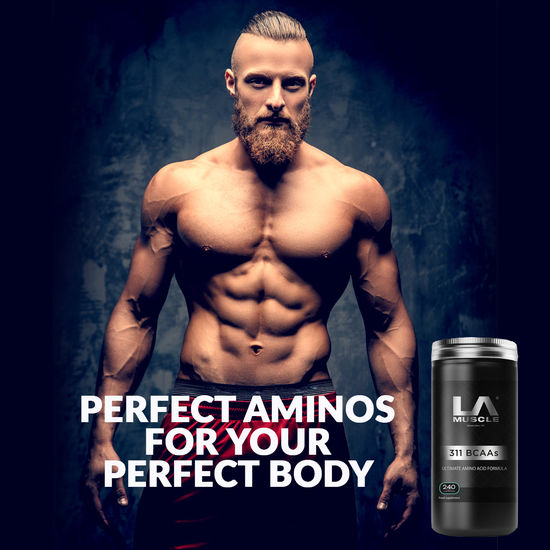 NON-COMPROMISE ETHOS
LA Muscle's full-strength premium sports supplements deliver the highest raw material qualify, non-compromising ethos and strict manufacturing practices. All LA Muscle supplements are scientifically researched and developed and manufactured to the highest pharma and standardised potency levels using the very best 100% natural raw ingredients.

* Please note: Due to the ingredients used in the formulation of this product, this supplement is not suitable for vegans.
NUTRITIONAL INFORMATION
| | |
| --- | --- |
| L-Leucine | 300mg |
| L-Isoleucine | 100mg |
| L-Valine | 100mg |
DIRECTIONS
Serving size:
1 Capsule
Supply: 240 capsules
How to take: You can take 4 capsules immediately after training. For better recovery and more muscle growth, you can also take 4 capsules just before sleep
Each tub will last: 2 months (or less if you take more capsules)
Supplements not medicines
LA Muscle supplements are "Nutritional Supplements". They are not medicines or drugs. They do not prevent, diagnose, restore, correct or modify any physiological condition or function in human beings. They will not treat diseases; they are not medicines. If you have a medical condition, please refer to your physician. If you get "any" side effects at all, stop use and refer to your doctor immediately. Never take more than the recommended dosage. Male hormone boosters are for people over 18 and mature for their age. If in doubt about anything at all, please contact LA Muscle.
LA Muscle tubs
In line with LA Muscle's Green Policy and reducing carbon footprint, LA Muscle is using a "ONE SIZE" tub for most supplements. This is to reduce the use of plastic tubs by having tens of different sizes for various products and having to over-manufacture plastics. As a result, you may find that in many LA Muscle supplements, the tub is much bigger than the total size of all pills. You are still getting the exact number of pills/capsules/powder you have paid for, however there will be extra space at the top, giving the impression to some people that the tub is not full. This is solely because of our commitment to reducing the need for making extra plastic tubs. LA Muscle does not use cotton wool to fill up the extra space because cotton wool can attract microbes. Your safety AND the protection of the planet are big parts of the LA Muscle ethos.
Proper noitceable after just a few days, gonna keep buying this.
Increased strength within just a few days, handy sized tub.
Found this to do exactly what is says it does, increased muscle mass and less recovery time. I've never tried anything like this before!
Bro, I noticed results so quick with this!
It is amazing product, I will buy more.